Back in January, I threw my brother and sister-in-law a pig themed
baby shower
. Well, the baby is finally here and I am officially an Aunt. Aidan was born last Friday. Healthy and adorable!
Don't you just adore his zero tee?
My sis-in-law is looking for some birth announcement ideas and we are keeping a
reasonable
budget in mind since they are both in grad school right now. I know many of us aren't looking for birth announcements at the minute, but it is sooo fun to browse and drool over the cuteness factor here.
Here are a few ideas for birth announcements. The first uses the baby's
actual
footprints and shrinks them down to fit the announcement. You could totally make this into a DIY project.
Baby's Footprints
by JoMerryman Paperie






The next few are options are for printable files:




They are a little more pricey than the average photo retailer's options (around $15), but they are totally unique and customizable. Best part is, you pay for the file and make as many copies as needed.
Little Slugger
by Less Ordinary Designs
I love everything that Sara makes over at Less Ordinary Designs.
Her style is so clean and fresh.
She has about a million awesome holiday cards to check out for next year (no, it's never too early!).
Here are a few less traditional,
but oh so cute announcements: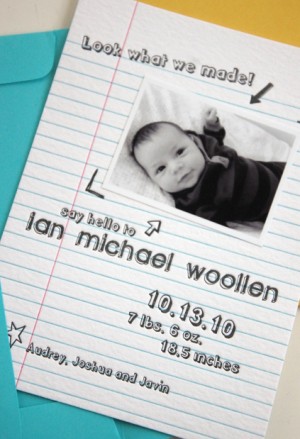 I would take great notes with this style by Parcel Post
Cool and modern from Sycamore Street
An unexpected use for a paper airplane from Bird and Banner
Any favorites? Seen any really cute baby ideas out there?